V1 rated at the 2010 NIRK Grand National Sieger show
V rated at the 2009 North American Sieger show
multi V rated bitch
1st in novice bitches class at the rottweiler national
in Hollister,Ca
1st in bred by class april 2010 at the Sacramento
Kennel Club show in Sacramento,Ca
FO title in SDA May 2011
1st in SDA OB1 Nov. 2011
1st in SDA protection dog 1 may 2012
RO-CA4448/37F/P-VPI CARDIAC - NORMAL
RO-71174G37F-VPI HIPS - GOOD

Blitz is and extreme bitch with great potential, unfortunately time restraints prevent me from taking her to the top. She is a multi V rated bitch and earned her V1 after only three shows, she has an equvilent of a BH which is called an FO. Due to lack of schutzhund clubs in our area we have not been able to attend Schutzhund trials, instead we train in a sport called SDA (service dogs of America) their sport is very simular to schutzhund and has created classes to accomidate schutzhund dogs. Blitz has also recieved a working title called P1 or protection dog 1. this demonstrates her ablility to take pressure and follow comands at her highest point of drive as well as her willingness to protect me if the need may arise. Blitz beat out several German Shepherds and placed first in this class, she also recieved a compliment from the judge stating that she is the nicest Rott he has seen in 15 years. This girl has tremendous drive, and awesome confirmation, as well as being healthy, passing all of her health tests. Due to her age I have been forced to breed her before she has reached all of our goals but I have no doubt she will pass on all of her great qualities. Although she is very driven she has a wonderful balanced temperament, this great girl walked off the field after doing her bite work and greeted everyone insisting on getting a good scratch, she helped her self to a seat in the front row on a childs lap while we were waiting for our critque.
 
V1 Damarhoffs Blitz Von Brennan FO, OB1, P1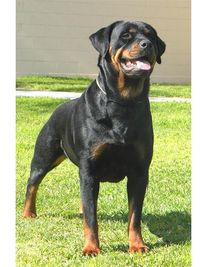 2007/7/13
AKC WS22920807 OFA RO-CA4448/37F/P-VPI CARDIAC RO-71174G37F-VPI HIPS
FAMILY OBEDIENCE (BH) OBDIENENCE DOG 1 1ST PROTECTION DOG 1 PROTECTON DOG 1 (SLEAVE)
1996/6/25

KÖRUNG 14.05.00 in Neukirchen Walter / Hoffmann

ZTP am 04.07.99 in Rehburg (Radtke) - SchH/VPG III FH I AD BH

WT: 13. 01. 2002 Met.Rott. 3284/02 HD: FREI, ED: FREI Hungaria Junior Champion, '03 Champion CH1 5xHungaria Prima Junior, 7xCAC, BOB, R.CACIB

Spidermans Prundale Marvel

Spidermans Prundale Marvel