V rated Cayla Von Brennan
Cayla Von Brennan
NIRK Nor Cal Sieger show VP1
NIRK Nor Cal Sieger show Best Puppy
NIRK Grand National Sieger show VP2
Cayla is out of our "C" litter,  Multi V 1 rated Von Zennith Dasco X Multi V rated Damarhoffs Blitz Von Brennan FO, OB1, P1, P1s. Cayla is a very high drive, athletic girl. she has great confirmation. Although Cayla doesn't have any working titles she has everything it takes to be an awesome working dog. Unfortunately there just aren't any resources where Cayla and Deb live to pursue working titles.  Cayla is owned by Deb Screechfield Cayla can be seen in the show ring in 2015/2016 and have a planned breeding with Cayla and Ikon von der Stark in the spring of 2016!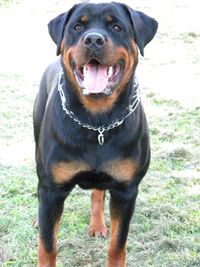 2011/8/18
NIRK 2012 NOR CAL BEST PUPPY IN SHOW NIRK 2012 NATIONAL SIEGER SHOW VP2
DOB: 8/6/05, AUS#: 31000157642, AKC#: WS25439802, AUS. HD-, ED-, OFA#: RO-70505G29M-VPI, AKC DNA#: V530691, Breeder: Steve Bejatovic, Owner: Cheri Ruzich

Multi V-1, Multi Challenge Dog (Sieger), Multi Best In Speciality Show, Multi Res. Challenge Dog, NRCA Champion, Best Stud Dog in Show, Danish KS Pup Of The Year Danish Mentality Test Pass, IMP DEN, DOB: 11/5/02, DKK 20556/2002 HD A, ED-, Breeder: Bo and Lisette Simonsen Height: 66 cm., Length: 76 cm. Weight: 58 kgs. Chest Depth: 34 cm. Chest Girth: 95 cm. Head: 16 cm. Muzzle: 8 cm. Eye color: 2A

DT-VDH Champion Multi CAC/CACIB, ES '02, SCHWZ.KS '02, O-KS '02, SchH III, IPO III, ZtP (05.00), AD, BH, FH II, DOB: 6/23/98, ADRK 99808, HD+/-, ED-, Breeder: Mike Litzbach

OSTER/LUX. CH., WJS '94, BS '97, BJS '94, O-BS '95, '96, '97, O-BJS '94, SCHWZ.KS '96, FCI ES '97, INTL/DT.VDH CH., SchH III, IPO III, BH, AD, Gekort bis EzA 14.09.99, ZtP (07.95), DOB: 4/24/93 ADRK 84080 HD-, ED- Breeder: Erwin Busl

V-1, SchH I, AD, BH, ZtP (05.97), DOB: 3/3/95, ADRK 88999, HD+/- Breeder: Mike Litzbach

SchH III, AD, BH, ZtP (05.99), DOB: 11/2/96, ADRK 94798, HD-, ED-, Breeder: Martin Speck

BH, AD, ZtP (11.90), SchH III, IPO III, FH, Gekort bis 09.05.94, DOB: 1/20/89, ADRK 74001, HD- Breeders: S. Holland & Rosi Bomball

BH, ZtP (06.94), AD, IPO III, SchH III, DOB: 8/20/92, ADRK 82184, HD- Breeder: Martin Speck

SchH II, AD, BH, ZtP (04.96), DOB: 12/3/94, ADRK 86215, HD-, ED+/-, Breeder: Ute & Andreas Ruis

SchH III, FH, BH, ZtP (11.90), DOB: 3/12/88, ADRK 73856, HD-, Breeder: Annelie Wusten-Gaaa & Wolfgang Gaa

SchH I, AD, BH, ZtP (10.91), HD-, DOB: 10/29/89, ADRK 76039, Breeder: Norbert Schauder

2007/7/13

AKC WS22920807 OFA RO-CA4448/37F/P-VPI CARDIAC RO-71174G37F-VPI HIPS

FAMILY OBEDIENCE (BH) OBDIENENCE DOG 1 1ST PROTECTION DOG 1 PROTECTON DOG 1 (SLEAVE)

WT: 13. 01. 2002 Met.Rott. 3284/02 HD: FREI, ED: FREI Hungaria Junior Champion, '03 Champion CH1 5xHungaria Prima Junior, 7xCAC, BOB, R.CACIB

Spidermans Prundale Marvel